Riverside Chateau Location
Riverside Chateau Bed and Breakfast is located in the residential hamlet of Bragg Creek within walking distance to local restaurants, bars, art galleries, antique stores, tennis courts and the nearby hiking trails of the Bragg Creek Provincial Park (<1 km).
Bragg Creek is a scenic township 35 km west of downtown of Calgary at the intersection of highways 22, 22x and 66 (see map below). It is situated between T'suu Tina Nation Sarcee Indian Reserve (east), Kananaskis Country (south and west) and Jumping Pound Lease Crown Land (north). Moose Mountain (2,437m/7,995ft) representing the front range of the Rocky Mountains and Banded Peak (2,934/9,636ft) majestically overlook the foothills area which is criss-crossed by Elbow River, Bragg Creek and Iron Stream.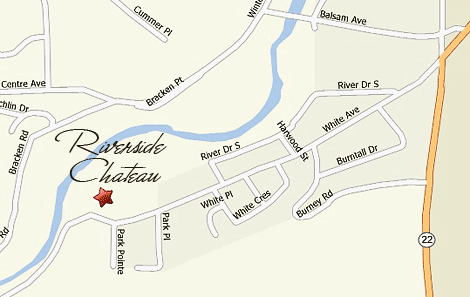 Click on the Map to go to Google Maps to see a larger map and get directions
Travel distances:
Calgary City Center – 35 km
Calgary Olympic Park (skiing, lugging, skeleton) – 25 km
Banff – 110 km
Lake Louise – 170 km
Jasper – 300 km
Kananaskis, West Bragg Creek hiking/cross-country trails - 10 km
Kananaskis, Elbow Falls - 20 km
Kananaskis, Forget Me Not Pond - 30 km
Kananaskis Village/Nakiska (lodging/golfing/skiing) - 85 km
Canmore (cross country, biathlon, rock climbing) – 90 km
Wintergreen Golf Course – 4.5 km
Redwood Meadows (golfing/soccer) – 6 km
Edmonton – 340 km
Vancouver – 1000 km
Geographical Coordinates:
Latitude 50 57'N
Longitude 114 34'W
Elevation: 1,300 m/4,266 ft